OEM and ODM are two items that you must have heard about before in business, but you may be confused about them. Actually, both terms describe manufacturing relationships between a buyer and a supplier. In this article, we will explore the differences between OEM and ODM and provide typical examples of each.
● What're the Pros and Cons of OEM and ODM?
●
 

Why and How to Select OEM and ODM Services?
●
 

Where to find OEM and ODM Suppliers?
●
 

How to Identify a Good Supplier of OEM and ODM Services and Products?
●
 

What're the Processes of OEM and ODM Products in China?
How to Start OEM or ODM Services?
●
 

What's OEM Meaning in Business Model? (OEM Examples)
OEM Meaning
OEM stands for the original equipment manufacturer, simply put, brand owners utilize the core technology to conduct design and development, and control sales channels. They will cooperate with other companies to help them complete the production. The factories just focus on manufacturing without participating in the design.
Examples of OEM Business Models
Foxconn is one of the largest OEMs in the world and has a vast global supply chain, manufacturing a wide range of products including smartphones, tablets, laptops, desktops, servers, and other electronic components. One of Foxconn's most significant partnerships is with Apple. Foxconn manufactures most of Apple's iPhones, iPads, and MacBooks, which are then Sales of final products, including time to market, selling price, and sales territories, are determined by the Apple brand.
Click to view the BHD OEM ODM case.
ODM Meaning
ODM stands for original design manufacturer. Under this model, the brand company needn't design and R&D. The factory will finish the whole process from design to maintenance, and provide several existing styles of products for the brand company to choose from.
In some cases, a manufacturer produces a kind of product, and this product is chosen by some other companies, they will ask the manufacturer to produce with their brand name or changing the design a little bit. In this way, the manufacturer is called ODM Manufacturer, and the product it produces is called ODM Product.
Examples of ODM Business Model
For example, this Bluetooth speaker is one of BHD's best-selling products, but some customers think it has a simple appearance, so he told us the elements he wanted to add. We made some small changes to the original product, such as changing the appearance or printing customer logo. As shown in the figure below, this is the ODM mode.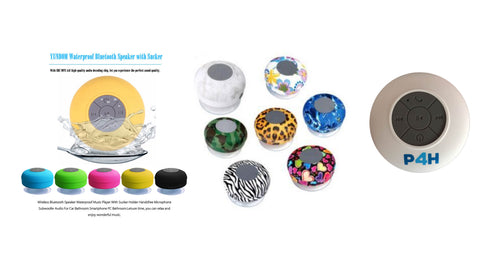 What's the difference between ODM and Private Label?
There is no clear distinction between ODM and Private Labels. Both of these two models' essence is that sellers make improvements against an existing product for adapting to the end customers' needs and sell the products under their own brand name. Actually, many foreign clients of us also refer to "ODM" as "Private Label".
What're the Pros and Cons of OEM and ODM?
Pros of OEM Business Model
Cost savings
One of the biggest advantages of the OEM business model is that it can help reduce costs for both parties involved. The manufacturer benefits from economies of scale and lower production costs due to increased production volumes, while the buyer benefits from not having to invest in the production of components or products.
Access to expertise
The buyer can leverage the manufacturer's expertise in production and engineering, which can lead to improved product quality and better innovation.
Flexibility
The OEM business model provides both the manufacturer and buyer with flexibility in terms of production capacity and specialization. The manufacturer can focus on producing specific components or products, while the buyer can focus on marketing and distribution.
 Reduced risk
The OEM business model can help reduce risk for the buyer, as they are not investing in the production of components or products. This allows them to focus on their core business operations and avoid the risk of investing in an uncertain market.
Cons of OEM Business Model
High Costs
Product design requires a high level of resources, including R&D costs, professional knowledge, skills and ability. These investments always mean potentially high risks. Meanwhile, the design also needs to be protected from being copied by other companies.
Long Product Cycle
If customers provide product design, it requires a long time to prepare and finish the design before production in large amounts. From design to final products, the whole product cycle is much longer than ODM products.
Pros of ODM Business Model
Reduced cost
One of the key benefits of the ODM business model is that it can lead to reduced costs for the buyer. Since the ODM manufacturer is responsible for both designing and manufacturing the product, they can leverage economies of scale to produce the product at a lower cost than the buyer would be able to achieve on their own. This can help the buyer to improve their profit margins and reduce the cost to the end customer.
Faster time-to-market
The ODM business model can also help to reduce the time-to-market for new products. Since the ODM manufacturer is responsible for both designing and manufacturing the product, they can work more closely with the buyer to ensure that the product meets their requirements and is produced quickly and efficiently. This can help the buyer to get their products to market more quickly and gain a competitive edge.
Reduced risk
The ODM business model can help to reduce the risk for the buyer. Since the ODM manufacturer is responsible for both designing and manufacturing the product, they bear a greater degree of responsibility for ensuring that the product meets the buyer's requirements and is produced to the required quality standards. This can help to reduce the risk of costly product defects or failures, and can give the buyer greater confidence in their products.
Cons of ODM Business Model
Limited product customization
The ODM business model may also limit the buyer's ability to customize the product to their specific needs. Since the ODM manufacturer is designing and producing the product for multiple buyers, they may not be able to make significant changes to the product design or manufacturing process without incurring significant costs or disruptions to their operations. This can be a challenge for buyers who need to tailor the product to their specific market or customer requirements
Intellectual property concerns
Another potential issue with the ODM business model is the risk of intellectual property (IP) concerns. Since the ODM manufacturer is responsible for the design and manufacturing of the product, they may have access to sensitive information about the buyer's business or proprietary technology. This can be a concern if the ODM manufacturer is also a competitor or if they were to breach their contractual obligations by sharing the buyer's IP with third parties. The buyer may need to take steps to protect their IP, such as implementing confidentiality agreements or using legal protections like patents or trademarks.
Summary, you may ask a question which is the better choice, OEM or ODM? There is no absolute answer to make a choice between them.
My advice is that the OEM model can help big or small business form their professional production to guarantee good product quality; while the ODM model is more suitable for those companies who want to save more costs and enter the market quickly.
Why and How to Select OEM and ODM Services?
Why Need and Choose OEM Service?
For many small businesses, it is costly to invest in constructing a factory, and the risk is uncontrollable. Besides, it is uneasy to recruit and manage tens of thousands of workers. Many companies will adhere to a principle tacitly: professional works should be distributed to professional companies.
For example, these companies that focus on R&D and innovation like Apple, Nintendo, Microsoft, IBM will let foundries like Foxconn, Pegatron, Flextronics, Inventec finish the production and assembly.
Why Need and Choose ODM Service?
There are 2 situations for adopting the ODM service.
Situation 1
Brand companies have wide sales channels and market operation ability, but they lack R&D ability. Then they will find a factory with strong R&D capabilities to make the product according to their demands.
Situation 2
Brands companies have R&D capabilities, but some low-end products with low profits are not worthwhile for them to invest a lot of time or labor into completing them. Then they usually choose one type from other companies' existing products and make some adjustments, then sell products under their brand name.
In international trade, for many ordinary products like Bluetooth speaker, many companies usually make some small changes to existing products
Where to find OEM and ODM Suppliers?
Through the explanation of OEM and ODM in the above section, you must have known that every kind of business needs OEM and ODM to make product ideas into reality or lower product costs, no matter for big or small businesses.
In this section, I will focus on teaching small business operators or startups how to find reliable ODM or OEM manufacturers and suppliers and how to identify them.
There are 4 main channels to find OEM and ODM manufacturers and suppliers:
●Online B2B websites
●Attend trade shows and exhibitions or wholesale markets
●Souring agents
●Use online directories
Online B2B websites
For small business operators, searching ODM and OEM suppliers online is the most convenient and economical way. There are many factories for you to choose to cooperate with. There are main B2B websites as follows,
Alibaba
Global Source
Made in China
DHgate
Most suppliers on these websites will explain whether they provide OEM, ODM, Customizing,
Private Label
, or White Label services on the product listing page. If they don't state clearly whether they can provide the service, you can ask suppliers directly if they offer this service.
Attend trade shows and exhibitions or wholesale markets
Attend trade shows and exhibitions or wholesale markets are a great way to connect with potential OEM and ODM suppliers in your industry. You can see their products and capabilities firsthand, and have the opportunity to meet with representatives and discuss your needs.
Compared with finding suppliers in your country, it may be more troublesome to find suppliers in China while it can also be a more cost-saving solution for your business ultimately.
Sourcing agents
In recent years, sourcing agents are popular among importers, especially for new importers. A professional sourcing agent has abundant OEM or ODM factory resources, like us BHD. We can help you select the right manufacturer to make your products, negotiate price, follow up production, control quality, inspect products, arrange shipment, etc.
Our thoughtful and comprehensive service will be helpful for your business.
Use online directories
There are several online directories that list OEM and ODM suppliers by industry and product category. These directories often provide detailed information about the supplier's capabilities, certifications, and customer reviews.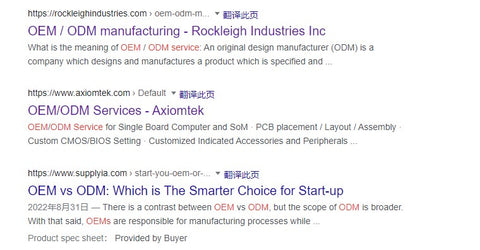 How to Identify a Good Supplier of OEM and ODM Services and Products?
Identifying a good supplier of OEM and ODM services and products is crucial for the success of your business. Here are some factors to consider when evaluating potential suppliers:
Product Quality
Quality is a critical factor when it comes to choosing an OEM or ODM supplier. Make sure that the supplier has a track record of producing high-quality products that meet your specifications and requirements.
Experience and Expertise
Look for a supplier with experience and expertise in your industry or product category. A supplier with a deep understanding of your industry and product category is more likely to be able to provide the specialized knowledge and skills you need to create a successful product.
Production Capacity and Flexibility
Make sure that the supplier has the production capacity to meet your needs and can scale production up or down as required. A supplier with flexibility and agility can adapt to changes in demand or product specifications quickly and effectively.
Technology and Innovation
A supplier that invests in technology and innovation is more likely to be able to provide cutting-edge products and services that give you a competitive advantage in the market.
Cost and Pricing
While cost and pricing are important factors, they should not be the only consideration. Look for a supplier that offers fair and competitive pricing while also maintaining high-quality standards.
Communication and Responsiveness
Effective communication and responsiveness are key to a successful OEM or ODM partnership. Choose a supplier that is easy to communicate with and responsive to your needs and concerns.
Certifications and Standards
Look for a supplier that meets industry certifications and standards such as ISO, CE, or RoHS. These certifications and standards indicate that the supplier has met specific quality and safety requirements.
Overall, choosing the right OEM or ODM supplier requires careful evaluation of several factors. Take the time to research and evaluate potential suppliers thoroughly to ensure that you find a partner that can deliver high-quality products and services that meet your needs and requirements. big factories are not always suitable for you, and you should select the best one according to your actual situation. Remember to choose the factory that is serious with your order and patient to communicate with you.
What're the Processes of OEM and ODM Products in China?
Here are 7 main steps in the process of OEM & ODM products. There will be a little difference in some steps for different products. Take cosmetics as an example of ODM and OEM, I will tell you their working process.
Step 1: Create a prototype or design of your product
The factory will choose suitable cosmetic formulations and make a sample according to your requirements of products, and then give it to you for a test.
Step 2: Find a China manufacturer
After the test, if you are satisfied with the cosmetic sample and the price, it will be necessary for you to come to the factory for an inspection in person, including R&D ability, production capability, the workshop, etc.
Besides, as make-up will be directly used on the skin and its security must be guaranteed, it is very important for you to cooperate with reliable and qualified factories. But if you import some other small items, you can choose not to make a field visit to the factory.
Step 3: Estimate the cost of the whole project
After the field visit, you will sign the contract with the factory. In the meantime, the factory will charge a certain deposit. (NOTICE: the sum varies from different factories.)
Step 4: Make a pre-production sample
The factory will be responsible for the package design and sourcing of package material, which is usually a free service provided by factories. Of course, they will design the package to meet your demands and then let the professional package factory make some package PP samples for your choice.
Step 5: Choose private label and packaging solutions
After confirming the cosmetics material, ingredients, and package design, the factory will go to FDA for product tests and filing.
Step 6: Start massive production
After the test and filing, the factory will conduct the product fill, packing, and QC process. Generally, it will take 15-20 days to complete the whole process. After finishing the whole manufacturing process, you need to pay for the balance.
Step 7: Delivery
The factory will arrange the shipment, and they will choose the best shipping method according to the delivery time and goods volume. The cosmetics are usually shipped by sea.
How to Start OEM or ODM Services?
Before choosing OEM or ODM services, you should be clear about your actual situation and which kind of products or business models you want. No matter you choose OEM or ODM, the common point is that decreases your production cost and increase your profits for a safer business.
The End
Thanks for reading, if you have any questions about ODM and OEM, let me know by leaving a comment below. Or you can consult us about what you want to know about OEM and ODM products in China.
We're BHDChina, a leading sourcing agent in China. If you want to find OEM & ODM suppliers and manufacturers from China, please CONTACT US without hesitation!