Huaqiang North Business District is located in the eastern part of Futian District, Shenzhen City, Guangdong Province, in the south of Shenzhen near the Shenzhen River. South of the Tropic of Cancer, between 113°46′ and 114°37′ East longitude and 22°24′ and 22°52′ North latitude, it consists of several markets, whose predecessors were industrial areas producing mainly electronic, communication and electrical products, and after more than 40 years of development, Huaqiangbei has gradually become the largest electronic market in China. It is the largest electronic product distribution center in Asia.
The Huaqiang North Electronics Market is easily accessible by public transportation, with several metro stations located nearby,From north to south are Huaxin station (line 7), Huaqiang North station (line 2.7.8), Huaqiang Road station (line 1), Huaqiang South station (line 7).
Want to shop the commercial street and understand the new machine and accessories in HuaXin, HuaQiang North these two stations off, walking distance is shorter, want to understand the second phone from HuaQiang South out, HuaQiang Road station location in the middle, to which side are almost far. The market is also accessible by bus, taxi, and other forms of transportation.
As the largest electronics market in Asia, Huaqiang North Electronics Market is a popular destination for local and international visitors, with many hotels such as shanshui hotel shenzhen huaqiangbei, home inn shenzhen huaqiangbei, hanting hotel shenzhen huaqiangbei and restaurants and other facilities in the surrounding area to cater to tourists and business travelers.
Huaqiang North common several market introduction
After years of development, Huaqiangbei has evolved into a unique "market cluster" supported by multiple professional markets and professional streets, which we will introduce in more detail below.
1.SEG Plaza  (190 meters walk from Exit D1 of Huaqiangbei Subway Station, No. 1002, Huaqiangbei Street, Futian District)
Shenzhen SEG Electronics Market was founded in 1988. It is located at the intersection of Shennan Middle Road and Huaqiang North Road, the main traffic road known as Shenzhen's "Diamond Treasure", and is located in the landmark building of Shenzhen City - "SEG Plaza". Floors 1-10 of the Podium Building (Phase I Market) and Floors 1-4 of Baohua Building (Phase II Market)
Shenzhen SEG Electronics Market has a wide range of business scope and strong comprehensive business formats. Its products cover several major categories and hundreds of thousands of varieties such as electronic components, computer complete machines and accessories, and computer peripheral products. Among them, the 1st and 2nd floors of the first-phase market are mainly engaged in electronic components; the 4th floor is an IT boutique, specializing in branded electronic products; the 3rd, 5th, and 6th floors are mainly engaged in computer DIY and computer equipment and consumables; The 1st, 9th, and 10th floors are mainly engaged in computer software, communications, network, security, audio-visual and other products; the second-phase market is mainly engaged in computers and digital electronic products.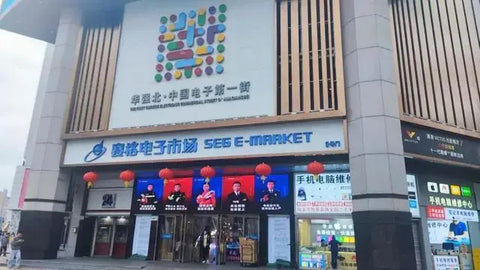 2.Huaqiang Electronic World (next to Exit A of Huaqiang Road Subway Station, Block D, Huaqiang Plaza, No. 1019, Huaqiang North Road, Futian District)
Huaqiang Electronics World is the second largest electronic trading center in Shenzhen, mainly selling spare parts and trading second-hand electronic products. In particular, its second-hand computer trading market is particularly famous. The first floor is mainly engaged in the sales of electronic components; the second floor is engaged in computer assembly and accessories sales; the third floor is a computer repair and second-hand parts market, and the fourth floor is a second-hand desktop and notebook trading center!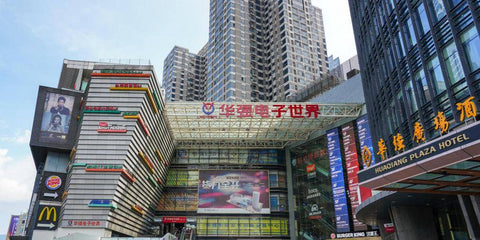 3.Yuanwang Digital Mall (Floor 1-5, Hualianfa Complex Building, No. 2006, Huaqiang North Road, Futian District, diagonally opposite Huaqiang Plaza Hotel)
Parallel imports in Huaqiangbei (referring to products that are sold in a country or region without a sales agent designated by the original manufacturer, also known as smuggled mobile phones) and licensed products (as opposed to parallel imports. Licensed products refer to products that have gone through legal customs declaration procedures The wholesale of mobile phones (foreign products entering the Chinese market through formal channels) is concentrated on the second floor of Yuanwang Digital City, and you can see another scene by taking the escalator straight up.
The licensed mobile phone part is composed of several major wholesalers, which are distributed in the surrounding stalls. They all have the support of mobile phone manufacturers behind them, and they can get the latest models on the market, bringing together Apple, Xiaomi, Huawei, Samsung, Lenovo,  ZTE, TCL and many other brand models. The rise of e-commerce has had an impact on the brick-and-mortar stores, but that theory doesn't affect the wholesalers here.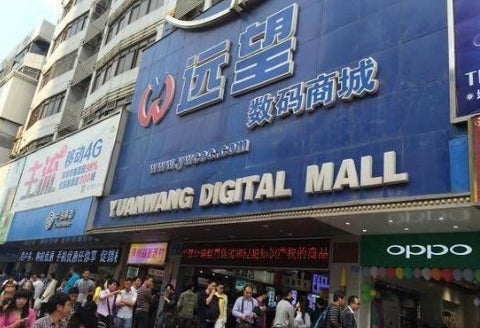 4.Manha Communication Digital Plaza (No. 2030 Huaqiang North Road, Futian District)
Located next to Yuanwang Digital Mall, Manha Communication Digital Plaza is also one of the old-fashioned stores on Huaqiang North Road, where some mobile phone wholesale stalls are gathered. But compared with the crowds of the former Wangwang Digital Mall, this place is a little quieter.
The current Manha Communication Digital Plaza is divided into Block B and Block C, and the wholesale stalls are concentrated on the first and second floors of Block C. Block B mainly focuses on the wholesale and retail of mobile phone accessories.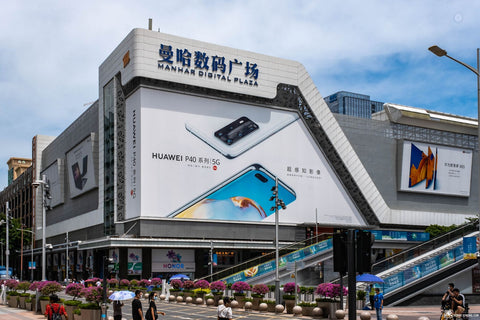 5.Tongtiandi Communication City (F3.178D, Tongtiandi Communication Market, Feiyang Times Building, No. 66 Huafa South Road, Nanyuan Street, Futian District)
What we just introduced are all the stores on Shennan Road, some are prosperous and some are in decline. Facing each other across the road, there are two high-rise buildings. The 1-2 floors of the front one are "Longsheng Communication Market", and the 1-3 floors of the back one are "Tongtiandi Communication City"; the former is famous for second-hand recycling, while the latter is It is the most famous iPhone refurbishment market in the country. From a distance, I thought it was a residential area. Although the Tongtiandi Communication City is not very conspicuous in the distance, but the aroma of wine is not afraid of deep alleys. North's hottest store.
Previously, we saw on the Internet that the exclusive iPhone was customized in Huaqiangbei, and the built-in card sticker of the Japanese version of the iPhone was used as the Hong Kong version, etc. "unique skills", all of which were "micro-innovated" here. Not to mention cracking the Apple ID lock and replacing the screen. A complete iPhone refurbishment supply chain has been formed here, ranging from iPhone PCB development, screen customization, baseband unlocking, to radium engraving and shell replacement. If you have some hands-on ability, you can buy accessories in the east and shells in the west, and assemble an iPhone in less than an hour. Tongtiandi Communication City has a total of three floors, and the higher the floor, the more popular it is. This is completely different from other stores.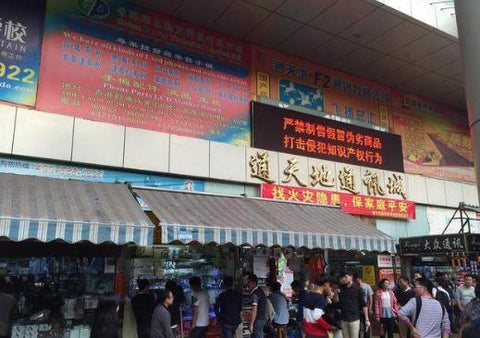 6.Longsheng Parts Center City (190 meters walk from Exit D2 of Huaqiang North Subway Station, No. 140 Zhenzhong Road, Futian District)
There are actually two Longsheng markets in Huaqiangbei Longsheng Market, one is Huaqiangbei Longsheng Accessories Center City, and the other is Huaqiangnan Longsheng Communication Market. The two markets are completely different. Longsheng Accessories City is It is divided into Building AB and Building CD. Building AB mainly buys watches, Bluetooth earphones, etc. Building CD mainly buys mobile phone cases, membranes and data cables. Collectively referred to as Longsheng Accessories Central City.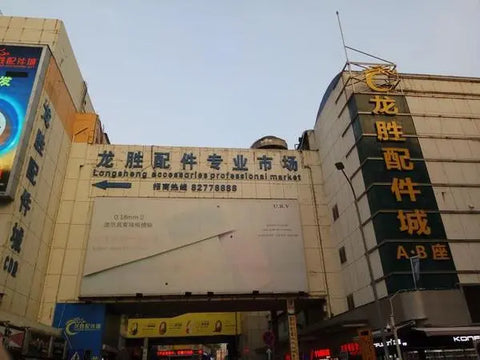 Secrets of Huaqiangbei Electronics Market You Should Know
1.Where does the supply come from?
Most of the mobile phones at the Huaqiang North stall are from Hong Kong. Huaqiangbei's Apple mobile phone purchase channels are basically in Hong Kong. There are many companies in Hong Kong that take pictures of Apple mobile phones at foreign auctions, and then wholesale them to merchants in Huaqiangbei. These merchants buy hundreds or thousands of units each time. Take what you have, and if you take less, they won't sell it at all.
These merchants in Huaqiangbei bring back iPhones of all kinds. They need to manually sort them into grades such as perfectly recharged, recharged, slightly defective, with traces of use, and need to be refurbished and repaired, before selling them.
2.For ordinary merchants buying and selling second-hand mobile phones, from which channels should they obtain the source of second-hand mobile phones?
The source of goods in Hong Kong is basically difficult to get in touch with. The required network, financial strength (Hong Kong's source of goods is usually wholesale of thousands of machines), and purchase channels are all indispensable. Therefore, ordinary merchants buying and selling second-hand mobile phones can only generally purchase from Huaqiangbei. Or buy from the local "Huaqiangbei", but the water inside is very deep, and you need a high-quality channel provider to find a machine with high cost performance.
Therefore, for ordinary second-hand mobile phone buyers and sellers, it is recommended to go to some online platforms with higher verticality and professionalism to purchase. Here we recommend Youpin Paipai, which is a professional second-hand electronic product (source) transaction auction platform.
3.Are all the booths opened by manufacturers?
Most of the stalls are owned by individual industrial and commercial households, and some are owned by trading companies. They have many factories for long-term supply. If you don't want to buy in bulk, you may in some cases get better prices from them than from the factory.
Some of the stalls are factory. These factories are mainly located in Shenzhen and nearby cities. These factories range in size from 10 to 1,000 employees.
If you come to Huaqiangbei for the first time, or you don't have much knowledge and experience in importing, it will be difficult for you to distinguish whether these are individual businesses, small workshops or large factories. Although most of the stalls claim to be the manufacturer, you shouldn't trust them at all.
4.Are Huaqiangbei products of poor quality?
As China's largest exporter of electronic equipment, the quality of Huaqiangbei's products is still acceptable. After so many years of wind and rain, the Huaqiangbei market is still standing. It can be seen that the quality and price of its products have absolute advantages, so the electronic products over there trustworthy.
Business hours
The general business hours of electronic shopping malls around Huaqiangbei are from 9:30 to 18:30, but most of them here are individual businesses, and the business hours are more casual. Some open around 10 o'clock, and there are basically no people before 6 pm, and some open after 12 noon. The busiest time of day is from 3:00 pm to 6:00 pm, which is the "golden three hours" of wholesale markets. Every day at 3:00 p.m. after the quotation is announced, the distributors take pictures with their mobile phones and send them to foreign customers through WeChat, QQ and other social media software. After the distributors receive the payment, they start to pick up, pack and deliver the goods. It was not until 6-7 o'clock in the evening that it gradually returned to calm.
How to Find Huaqiangbei Wholesale Market Suppliers? 
Whether you go directly to buy in the market, or go with a translator or agent, I suggest that you compare as many suppliers as possible to fix the best price among them.
Generally, the suppliers of the same product category are all situated in the same area. You only need to go around them to find similar suppliers. 
If you are not familiar with the market, you can ask for the help of an agent. They can take you to the most popular shops based on your product category.  
How to Communicate with Huaqiangbei Suppliers?
Wholesalers in Huaqiangbei markets can only understand some basic English, such as how much, price, cheap, good, and other simple English words. When you see a product at a booth, you can use your finger to point it out. And then the suppliers will show you the price of RMB with a calculator. You need to pay attention to the fact that suppliers in the market only accept RMB and reject US dollars.
Since the sellers can only communicate in this simple way, if you want to buy a small number of stock products, you can simply pay cash and they will deliver to your hotel.
However, if you want to discuss with the supplier about how the product is manufactured, how to customize a product, or develop your private label products, you'd better find a translator or sourcing agent to help you communicate with the supplier.
The translator is mainly to help you communicate with the supplier in the market. But as for orders, inspections, and delivery after leaving the market, that's not their job. The cost for a translator is about 500-800RMB a day, which values $80-$120. In BHDChina , we can also assign you a translator free of charge, click to connect with a translator. 
However, a translator can only help you communicate with the supplier and take you around the wholesale market. If you need to purchase in bulk, customize your products or arrange shipment to your country, you'll need a sourcing agent.

Expert Tips about Dealing with Huaqiangbei Market Suppliers
1. Choose Suppliers with Specialized Categories 
Some suppliers in the Huaqiang North market are specialized in doing one category, and some others do the various categories of products at the same time. For specialized suppliers, their prices will tend to be better, the quality of the products will be more secure, and the suppliers are more familiar with the products.
The suppliers that deal with a lot of categories often have multiple cooperative factories. Relatively speaking, the suppliers who do various categories are not as professional as those who have specialized in just one category.
2. Confirm Product Quality
While purchasing from Huaqiang North markets, one thing that is very important is to emphasize to the supplier that the quality of massive production must be the same as the quality of samples. Never assume as long as you place your order based on the sample seen in the market, your product quality will automatically be the same as that of the samples. 
The truth is that if you do not do the double confirmation with the supplier, in most cases, you'll be surprised at what you receive, the product material, size, weight or color, etc could all be different from the samples.
3. Tips on Price Negotiation 
For price negotiations, the price of different quantities will not be very different. Generally, the quantity of about 1000 pieces can be offered at a great price. And sometimes, the supplier will give you a little discount of about 3-5%.
Some customers think that if they directly ask the supplier whether the price of 10, 000 pieces will be lower, they will get a low price of around 10-20%. But this is not true, as even after doing this, the price will still be the same as that of 1000 pieces.
You don't have to be surprised, because this is normal. Since suppliers don't believe you will buy 10,000 pieces. They just think that this is a trick of you asking them about the lowest price possible. So, when you hear that the price of 1000 pieces is almost the same as that of 10, 000 pieces, you shouldn't be surprised.
How to Ship Products from Huaqiangbei to My Country?
ShenZhen is a city with very developed logistics and transportation networks. Here, you can choose to ship to your country in many ways. In general, there is express delivery, air transportation, and sea shipping.
For the specific channel and time limit, you can click here to view the reference.
What Can BHD Do for Me? 
Not only can the BHD help you search for suppliers online, but also they can accompany you to go to the wholesale markets. With the local knowledge of BHD, you can really benefit a lot.
In addition to help you find suppliers inside Huaqiangbei markets, they can also help you find suppliers in other cities of China, if there are no suitable suppliers in Huaqiangbei.
2.Sample Arrangement
If you need to do some product revision or adjustment based on the existing products in the markets, you can just tell suppliers about your specific requirements, and leave the sample arrangement to the BHD.
Once the sample customization is finished, BHD helps check the quality and arrange to ship to your home.
3.Shipping Arrangement
No matter whether you purchase from one supplier or several suppliers in the market, BHD can help you consolidate all cargoes into one shipment. We have a wide network of freight forwarders or express companies, to ship products at a better price.
4.Free Warehousing 
Not every sourcing agent has free warehousing service. Only those agents who have their own warehouses can provide such service, like BHDChina.
Another great benefit to have a BHD agent is to act as your China representative during quality inspection. If quality issues are found before shipment, BHD can help you discuss with suppliers, look into the quality problems and work out solutions.
You may think you can hire 3rd inspection company, however their rate is rather high, 300 dollar per person a day for each inspection. Also they are only responsible for issuing the inspection report, and will not help you solve the quality problems with the supplier.
The product development process is quite complicated. From concept to real products involves lots of details and requires lots of effort over a long time.
 As such, you'd better find an agent such as BHD who's experienced in product development, and understand what it takes to make your ideas happen.
Finally
BHD is near Huaqiang North so we familiar with all things in Huaqiang North. If you want to visit Huaqiang North or have any queries, feel free to contact me. If you need any services like sourcing, customizing products from China, welcome to contact us.